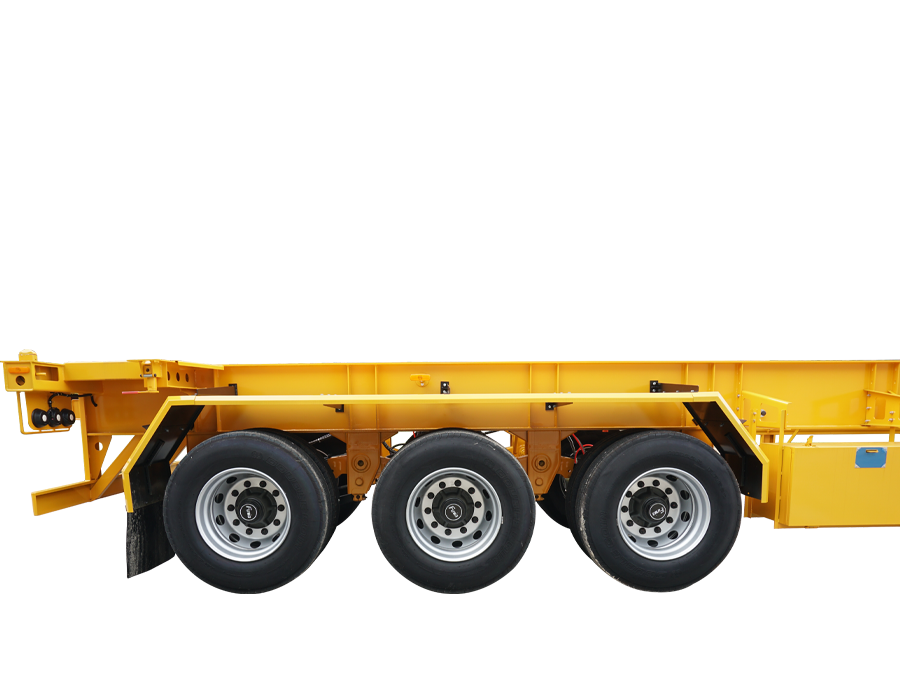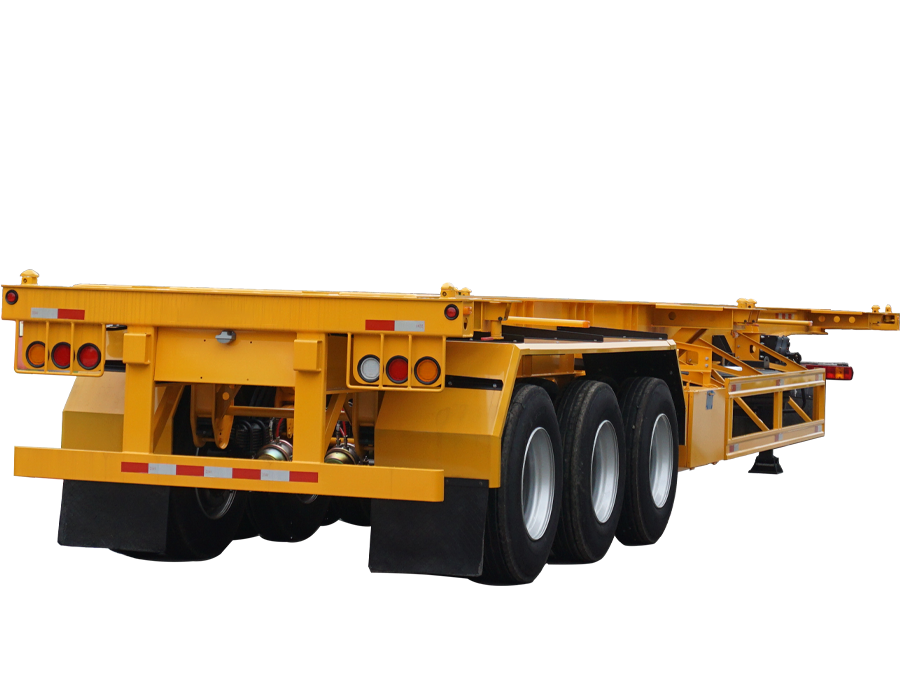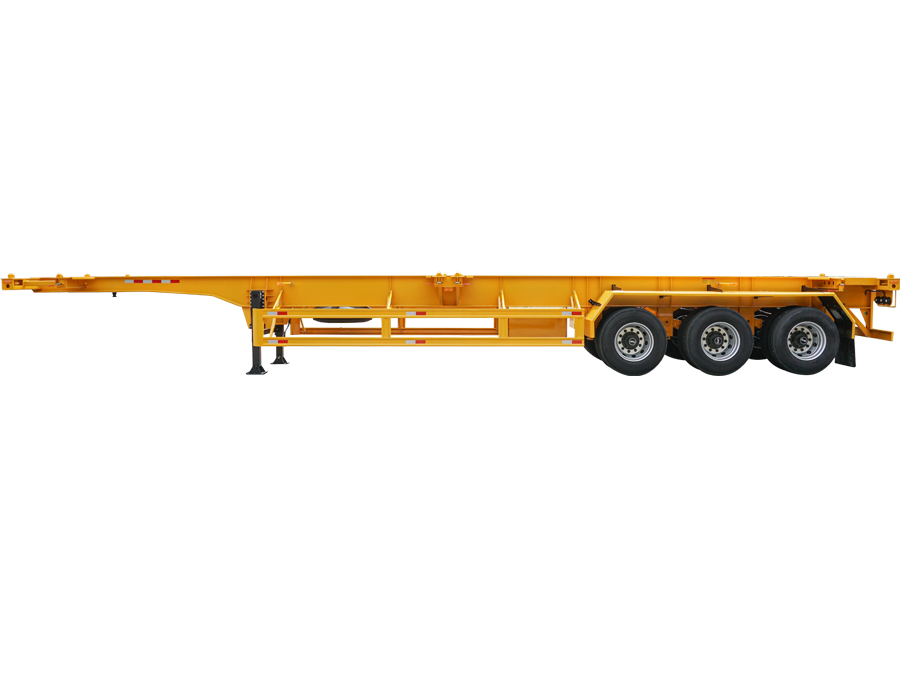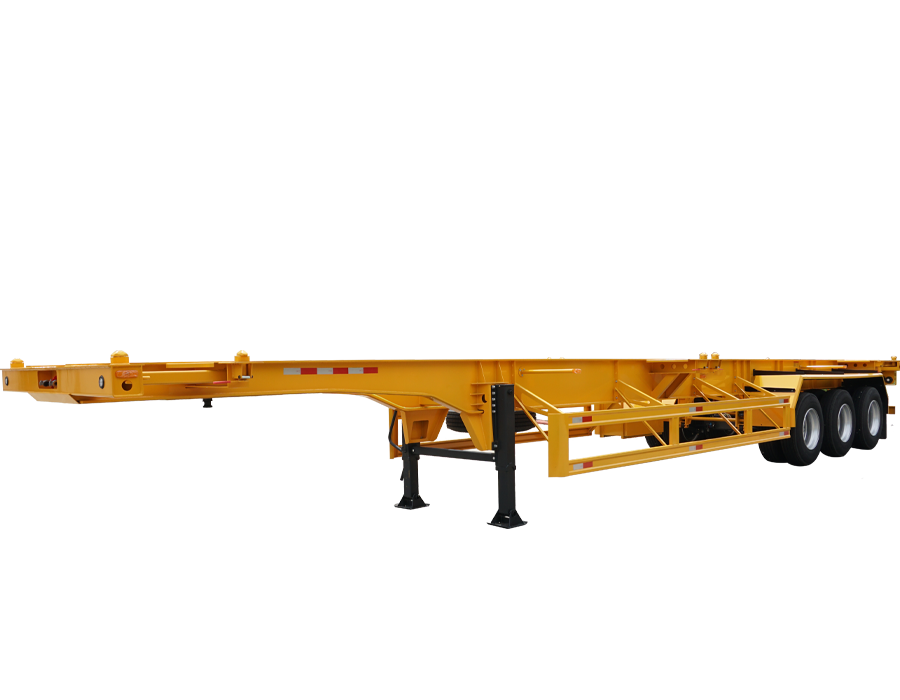 45' Skeleton, 3 axles, 12 twist locks Semi-trailer
Quantity
The requirements of customers
Semi-trailers carry containers with a payload of up to 32.9 tons.
PRODUCT INFORMATION
Overall Dimension (mm)

mm

13.910×2.490×1.670

Wheelbase (mm)

mm

13.910×2.490×1.670

Tareweight (kg)

kg

5.760

Authorized payload (kg)

kg

33.100

Total mass (kg)

kg

38.860

Main beam (mm)

Dimension (mm)

12x6x14, 576/140

Material

Steel

Q345B

Axle

FUWA Branch, payload 13 tons

King pin

Type 2", bolt

Landing gear

FUWA Branch, speed 19″ travel, simultaneous operation

Suspension system

Spring hanger

Dependent suspension, dynamic equilibrium, FUWA spring hanger

Leaf spring

7 leaf spring (90x16mm), Korea spring workpiece

Control Valve

Wabco

Brake system

2-line pneumatic, locked on 3 axles, WABCO control valve

Electrical system

LED Light, 10V ~ 30V

Tire Specs

Tire size

11R22.5/12R22.5

Branch

Double Coin

Painting

Shot blasting  (≥SA2.0); Thickness (Primer + Topcoat) ≥ 80 µm

Paint color

By request of customer
Semi-trailers are manufactured on a closed line, invested in modern technology. Main beams are made from official imported steel from high quality steel plate manufacturers such as MAANSSHAN steel, POSCO,… with full Mill test quality certificates, CO, CQ origin. The details of each SMRM are cut by laser cutting technology with high precision, aesthetic cuts. It is then assembled into clusters on an optimized and highly automated production line. The product after welding is completed, will be transferred to blasting to clean the metal surface with a surface quality not lower than SA-2.5. The product is powder coated (Dip ED) then painted in a color finish with a coating warranty of up to 7 years.
1. Is your business a trading or manufacturing company?
We are a manufacturer in mechanics and supporting industries with the largest scale in Vietnam.
2. Does your company export?
Yes. Our company has exported products to countries such as USA, Australia, Canada, Korea, Japan, Finland, UAE, Poland, Malaysia...
3. What is your company's payment terms?
We will have a contract. There will be specific terms and regulations on your order's method, time, and payment documents. For export, we use T/T or L/C payment method.
4. How long does it take to complete an order of your company?
With products that are already available, the completion time is short. If you have drawings, we need to research and design them,… so the completion time may be longer.
5. Can we get some samples before mass production?
Customers can always refer to sample products. When they are satisfied, we will proceed to mass production as required.
6. What is your shipping policy?
We provide full logistics services from transportation, customs declaration, export documents, and customs clearance; besides, we strictly control the shipping process to help limit costs incurred and ensure timely delivery.